What to consider before moving to a cloud phone system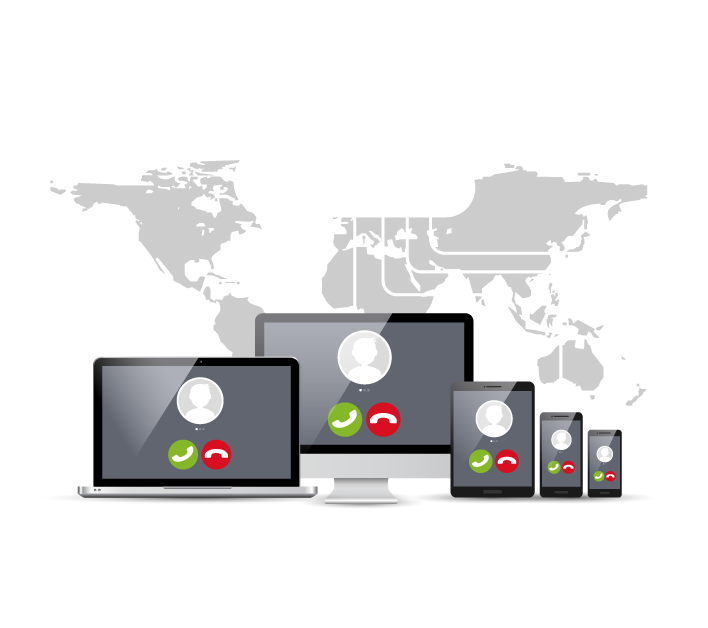 So, you've made the decision to start moving your business to the cloud. Great! It could be the smartest business decision you make right now, giving you the flexibility and efficiency you need to thrive in the changing business environment.
We've got a huge amount of experience in supporting businesses planning their digital transformation and migrating customers onto our cloud phone system, so we've compiled a quick check list of the key factors that can help make the move as seamless and fast as possible.

Bandwidth
If you're about to use VoIP or the cloud for the first time, your internet connection needs to be able to handle the extra traffic you'll be putting through it. Fortunately, fibre connections are available at more than 95% of UK business addresses, so there's a really good chance that the connection you've already got is fast enough for the job.
To check your own bandwidth, Google have a very simple built-in speed tester – simply Google 'internet speed test' and press 'Run speed test'. The bandwidth you need will depend on the technologies you're going to deploy, but as a general rule of thumb anything over 1Mbps per user should be enough for most businesses.
Our support and provisioning teams can help you make sure you've got enough bandwidth for your needs. Let them know which features you're going to be using and they will let you know the bandwidth requirements.
Hardware
Whilst you won't need to install any complex and expensive servers in your office when deploying a cloud phone system, you may still want to give your staff handsets at their desks.
Our iPECS Cloud platform is compatible with any SIP-capable phone, but Ericsson-LG's own handsets are designed to work with proprietary iPECS protocols to put advanced call control features at your staff's fingertips. There's a wide selection of handsets in the iPECS range, from budget-friendly desk phones to full-featured executive handsets, so we can help find the perfect combination of features for your needs.
The real beauty of our cloud platform is that you don't need any hardware at all to make use of it. We can provide apps for all mobile and desktop platforms to enable a true 'Bring Your Own Device' culture. This is perfect for home and flexible working – there's no need to take your desk phone home with you if you've got an app on your iPhone!
Security
It's important to consider your office's network security when you upgrade to cloud systems. Since so much of your communication will be done over the internet, firewalls and anti-virus protection are crucial.
Phone system fraud does happen, but it's easy to defend against with a few simple precautions. For example, it may be a good idea to provide a VPN for your home staff to use, encrypting all traffic between their home network and your office network. This will help protect your business and data regardless of the equipment your home workers have.
Office Network
The increased network traffic of cloud phone systems when compared to older ISDN or analogue systems can sometimes highlight weaknesses in an office network. The requirements for modern cloud systems however are minimal and can usually be met with a few tweaks of your router's settings.
If you haven't upgraded your network in a while, our team of experts can make sure your hardware can handle the demands of a cloud system before installation to put your mind at ease.  Whilst almost all modern routers are perfectly compatible, we will be happy to advise of a cost-effective replacement if required.
Phased deployment
It can take a little while to get used to new technologies. You need the time to let any new systems 'bed in' organically and become part of your day-to-day life. Our iPECS Cloud platform gives your business access to many features you may not have used before, therefore deploying them to your staff all at once may not give the fastest results.
We recommend deploying new tools and features in phases. For example, it may be best to first use the iPECS features that replace your existing tools before rolling out new tools and disrupting workflows.
The more advanced features of iPECS like video calling or screen sharing can save your staff a huge amount of time, but they need time to integrate organically into your staff's workflows before the features really shine. It's a good idea to consult your team and see where your current tools are letting them down or hindering their productivity to start building a cloud deployment plan.
Home and remote working policies 
It's clear now that flexible and remote working in some form is here to stay, so it's probably worth re-evaluating your policies and strategies as you return to the office to help iron out any problems you might have encountered and set your business up for the future of home and flexible working with cloud systems.
Well-worded policies let you make the best use of cloud systems, giving your staff strong guidelines on how to use your communications systems when working from home. Thinking about your home working strategy before installing cloud systems will help you hit the ground running when they are ready for you to use, getting the best value from your new systems.
This will include giving your staff access to the latest remote collaboration features, but there may be other areas that need to be addressed; for example, moving away from a rigid '9 to 5' structure and implementing a more flexible structure with core hours can help your staff balance their responsibilities, reduce stress, and improve output.
Whilst there are many things to consider before making the move, the benefits far outweigh these. Cloud systems can transform the way you work, creating new options for flexible working and increasing your business's agility and adaptability. Overall, cloud systems are significantly cheaper and faster to install and set up than their on-site equivalents. For example, our iPECS Cloud system can be ready for you to use within minutes – compare that to the weeks or even months of planning that go in to an on-site installation!

Future-proof your business communications with iPECS Cloud
Do you want to find out more about iPECS Cloud?
We'd love to give you a demonstration; fill out the contact form for a free consultation with our team.