How to adapt to long-term remote working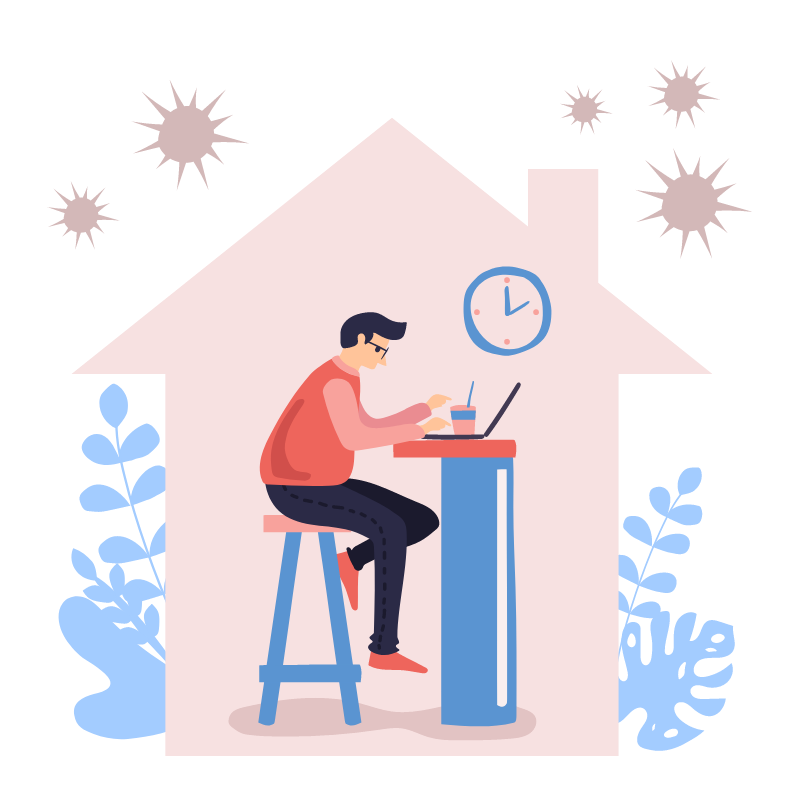 Great remote working policies are built around two things: great technology and better habits. Using the right tools and an organised approach helps you to get the productivity benefits of remote working, while still prioritising staff wellbeing.
At the end of May we sent the management team at Chalvington on a training course. This course was hosted by remote working expert, Nicky McCrudden, and provided guidance on how we can manage our teams remotely. We gained some fantastic insights, and wanted to share those with you today.
When and how teams should check in
This is the largest thing to contend with when trying to implement your own remote working policy. If you don't check in enough with your team, it's really easy for some of them to end up feeling isolated, unmotivated and unproductive. On the other hand, it can be just as unproductive to be stuck on video calls all day, especially if many of those are made on an ad-hoc basis.
There has to be a plan and a level of regularity to these calls. With a smaller business, you can do a quick morning stand-up call with the whole team. If your team's too big for that, you can do departmental stand-up calls. These 15-minute catch-ups help people to share ideas, feel valued and stay on the same page.
In terms of the tech that can support this practice, we'd recommend a service that combines your video conferencing, with your calendar. It's difficult to organise a regular call if you don't know what your remote staff are actually up to. Our Cloud Collaboration platform integrates with your Outlook calendar, so you can always see when your staff are free to meet, virtually or in-person.
The value of 1 to 1s
While it's great to get the whole team round the table for discussion, you can't neglect a personal connection. A big part of our remote management training was about how to handle remote 1-to-1 calls. These should also be held on a regular basis between managers and their staff, and should have dedicated time set aside for them.
These meetings should be an organised and well-prepared process, so it's important that you come with an agenda of items to discuss. However, to promote wellbeing we also recommend making time for your staff to just talk. Working remotely can be a very isolating experience, so just having a catch-up with a real person can be incredibly beneficial.
Of course, none of this can be done without a reliable video conferencing service. In particular you need one that allows for file sharing, virtual backgrounds to prevent distraction and clear audio and video quality. We're happy to say our Cloud Collaboration service fits the bill here.
Create a flexible plan
So far we've spoken about how to host internal calls remotely, but what about your wider policy? It can be tricky to set limits on how much time your team can spend working away from the office, if at all. At Chalvington our advice is to have a clear policy in place, but make exceptions where they will benefit your team.
For example, after our training course we implemented a 50/50 policy. This means as a default, staff can work from home 50 percent of the time, if they want to! This sets a clear precedent, but we're also happy to be flexible where circumstances require.
If due to travel difficulties or personal circumstances, staff wanted to work from home more, we're happy to oblige if it will improve a team member's productivity or wellbeing. The whole process is about putting a clear plan in place, but still prioritising the needs of your staff.
The equipment for going hybrid
There are many challenges that businesses can face when switching to a hybrid or remote working model. Whether you're missing calls, struggling to get a reliable connection or finding it difficult to get to grips with video conferencing, it's all understandable. While implementing good strategies can help to keep everyone feeling organised and connected, it needs to be backed up with great tech.
We recommend a unified communications service to any businesses looking to make the most of remote working. This is any application that allows you to access communication services, and your business contacts on a device of your choice. You might be most familiar with MS Teams, but it includes many other services such as our own Cloud Collaboration platform.
It's also making sure that your team can access a reliable connection. If you don't have the broadband at home to support video calls it could be worth looking at connectivity accessories. We can offer 4G dongles, mobile hotspots, and advise on when fibre is coming to your area.

If you'd like any more information or to find a system that's right for you, get in touch with the Chalvington team. We'll provide a quote or just some helpful advice. You can reach us by filling out the contact form on our contact page or call us on 01323 440555 to arrange a consultation.