The Pitfalls of Remote Working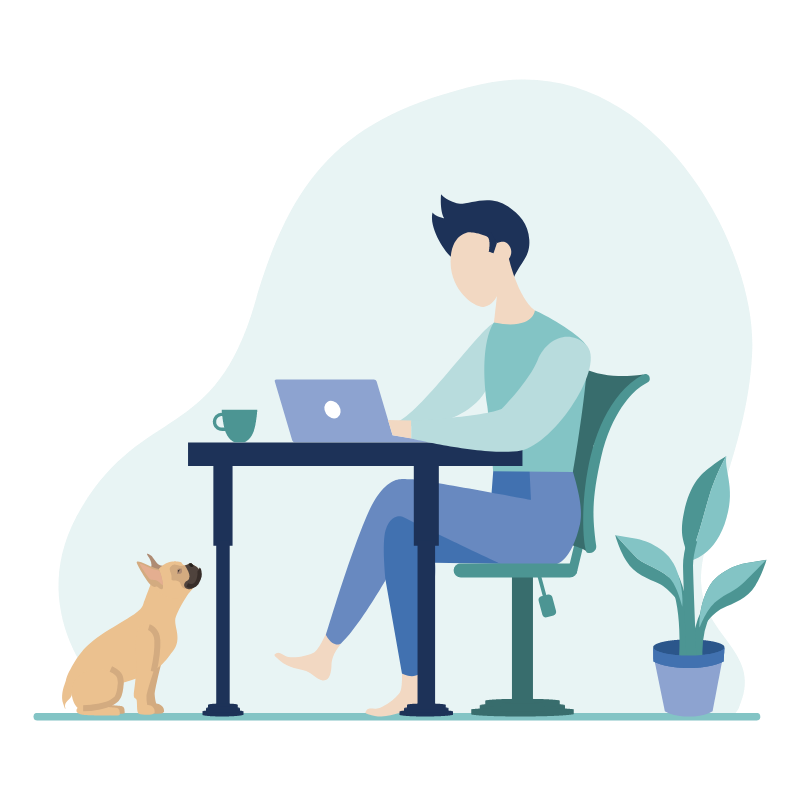 In February 2022, a survey said that 84% of remote workers were planning to continue working from home to some degree in the future. Working remotely has made life easier in many ways for both businesses and employees. However, remote working does come with potential pitfalls, which we advise that companies consider when maintaining or choosing a solution for their workforce.
At the end of May, we sent our team on a training course with remote working expert, Nicky McCrudden. Nicky provided our team with some fantastic insights that helped our team address some of the pitfalls of remote working. The common themes suggested that with great communication and support, you can help your team to navigate the challenges that come with remote working.
How does remote working affect productivity?
There are some surprising stats that say many workers' productivity went up when they began working from home. 52% of those who were able to work from home said that it was easier to complete their work and 53% said they had fewer distractions.
Stats suggests that workers must have found their workstations and communications effective enough to be able to work at their best. This could only have been achieved through the companies finding right tech solutions for their business.
Chalvington offer a range of products and solutions that are selected to optimise your employees' home workstations. From cloud collaboration to our fantastic support service, we can optimise your workflow to increase your overall productivity.
Maintaining the collaboration process
Working remotely often means that an employee will be doing much of their work alone. Typically, sharing desk space and bouncing ideas has been the norm for collaboration. If people aren't sharing desks in an office, some of the interaction as we know it can get lost.
However, the way in which technology has advanced means that file sharing, daily conference calls and group chats might be just as effective for sharing ideas. Previously staff might attend an initial brief and then go away and work on something independently, but technology now allows them to share collaborative efforts in real-time.
Our Cloud Collaboration package optimises your remote telephone communication using cloud-based VoIP phone systems. Our team will take you through every step, from choosing and setting up the hardware to installing and maintaining the software. Find a solution to make cloud communication effortless.
Staying motivated during isolated working
Staff can also start to feel isolated when working from home extended periods of time. It's important to check in with your team to make sure they have everything they need and don't get stuck feeling unmotivated or unproductive.
Planning regular 1 to 1's and stand-up calls are a great way to keep workers in the loop with what's been going on. These webinar meetings also allow people to catch up with their team and share what they've been working on. Feeling valued and challenged are two of the biggest factors that ensure employees are motivated working remotely.
Our Cloud Collaboration platform integrates with your Outlook calendar. Integrate your meeting schedule with all of your workers, so that everyone can stay on the same page.
Create a safety net for unstable internet access and technical issues
Where workers might feel more than comfortable attending webinars and operating via digital means, they may not have the bandwidth or connectivity to be able to do so. Finding a solution to resolve technical issues when your staff are 50 miles away from the office can often prove a challenge.
The trick here is to provide a safety net that will prevent things from falling apart. With the right connectivity solution and IT support in place, you'll have your staff covered and make remote cloud-access as easy as if they were using the office network.
Our IT and cloud collaboration solutions will keep you online wherever you might be. Our remote access can monitor your work device health. Additionally, if things do start to go wrong, our disaster recovery team can bring the ship back on course.
Does remote working cause any cyber-security concerns?
Companies may worry that their workers' remote space may not be secure from cyber threats and data thieves. No company wants to face the stress of losing intellectual property or having large projects put on hold due to technical software issues.
Password security is commonplace in and outside of the working office. One that most workers are used to by now. The next step would be to secure remote devices with routine health checks from engineers. Additionally, many companies use private networks, with anti-virus software and smart firewalls to create further security barriers.
.

Chalvington offer all of these services on an individual basis. Every company is different, and it's important to take an in-depth look at what it is that your company needs to stay safe from cyber-attacks. Get in touch at 01323 440555