Need a disaster recovery plan?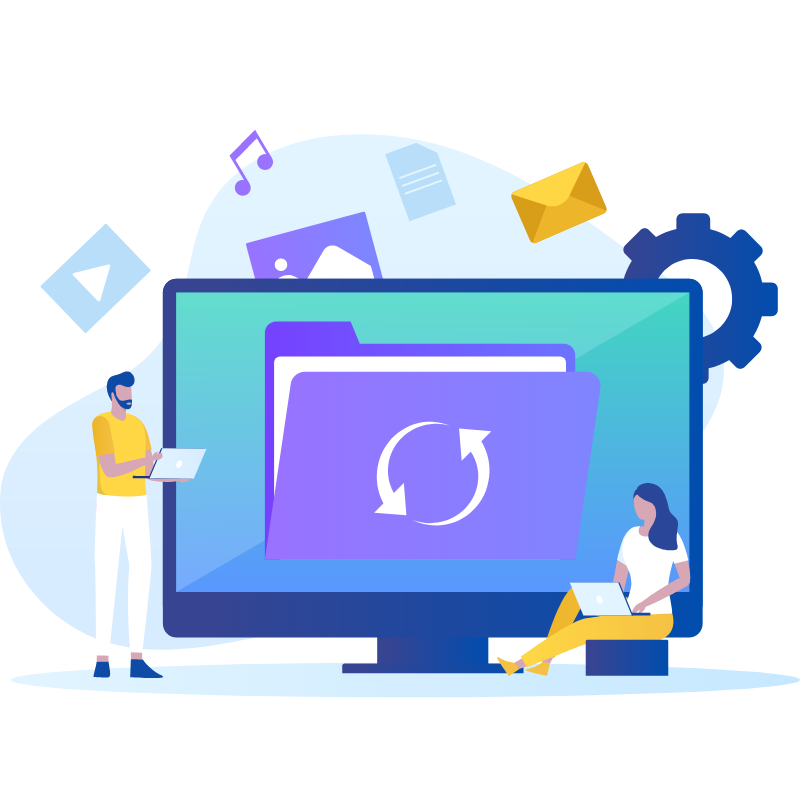 Have you considered how to prepare your business for a worst-case scenario? There are a huge number of events that can seriously impact your ability to serve your customers.
If you've not thought about how you'd handle a catastrophe like a fire, flood, or even a powercut that knocks out your servers, you really should. In this article we will discuss what a disaster recovery plan is and how to design an effective strategy to keep your business operating no matter what.
– What is a disaster recovery plan?
A disaster recovery plan is exactly what it sounds like. It's a set of tools, systems and procedures that help your business get up and running if the worst were to happen.
So what counts as a disaster, exactly? That depends almost entirely on the nature of your work. For most office-based businesses, a disaster is any event that prevents your staff from working or accessing your data.
That includes any natural disaster you can think of; fires, floods, earthquakes, and crucially, pandemics. A good disaster recovery plan will also cover more routine events like a powercut, hardware failure or network outage at your office. As the old saying goes, you should hope for the best but plan for the worst.
We've been tailoring disaster recovery plans to our clients' unique needs for decades. Our solutions were put to the test through lockdown, and they performed beautifully. Our clients were able to flourish in a remote environment, picking up their work from home without any interruption.
– Am I safe if I use cloud technology?
Cloud technology provides enormous benefits to disaster recovery in the event of your office being inaccessible, but not all clouds are the same.
Some providers will host their cloud services in one datacentre, while we use several across the country. This allows us to ensure that your data is safe with us, giving you access to a robust and well-designed network.
Having a deep understanding of where your data is stored and how your services are delivered to you is crucial. When you're building a disaster recovery plan, ask your technical partners about their infrastructure. How would you recover if their network goes offline? How do they protect you against disasters with their own systems?
A strong technical partner will be proud of the strength of their network, so they'll be delighted to talk about it! When we've helped clients develop disaster recovery plans, we've learned that providers who are happy to provide detailed network information and diagrams are the best prepared.
Our technical engineers are more than happy to talk about the reliability, resiliency, and availability of our systems. If you want to find out more about how we do things, get in touch.
– Protecting Your Data
Backing up all your business data is the first and most important step of any disaster recovery plan. These backups should always be stored off-site to protect against issues at your office, and it's always best practice to take daily backups of any important systems.
This is one area of disaster recovery and business continuity that hit ill-prepared businesses hard over lockdown. Many older backup systems can only easily be configured to protect a single device. This means that if your staff have been working from their own laptops or PCs over lockdown, the files they have stored may well be entirely unprotected.
Modern business requires modern solutions. Our cloud backup systems support all of your business devices, wherever they are. Combine this with cloud collaboration systems like Unified Communications and Office 365, and we can ensure that your business data is safe no matter what. Before deploying any systems to a live environment, we test all elements of our disaster recovery plans. This gives our clients total confidence in the tools and processes we provide.
– Retrieving Data
Protecting your data is only a small part of a disaster recovery plan. Being able to retrieve data quickly, safely and easily from your backups is crucial for effective business continuity.
When you're looking for a partner to help develop a backup solution, make sure you ask them about recovering data in the event of a disaster. Off-site backups can be tricky to access, and restoring a backup is rarely simple.
Our cloud backup systems make accessing your data easy, giving you the ability to browse your archive in the same way as a traditional file explorer. This means that you can recover individual devices and access important files immediately, keeping your staff working and your business running.
Of course, we'll perform a dry run of emergency data retrieval as part of a full systems test. Data restoration is a crucial element of disaster recovery, so any backup solution we set up is fully tested before being signed off for use across your business.
– Business Continuity
Business continuity describes a set of systems, tools and processes designed to keep your business running smoothly, even in the event of a disaster. Put simply, business continuity means having a plan for difficult situations.
Beyond data backups and recovery, business continuity focuses on the nuts and bolts of disaster recovery. For example, if your office is not accessible, will your staff still be able to use your systems and tools?
This is where cloud systems like Office 365, Unified Communications systems and CRMs really come into their own. Cloud systems are entirely insulated against any disaster that may befall your office, from flood or fire, to theft or cyber-attack, making business continuity as easy as logging in to a secure web portal.
Business continuity also describes the best practices that businesses need to follow in these situations. There needs to be mechanisms in place to ensure that communication between sites and users is carried out in the most efficient way. You need to know emergency contacts and ensure that there are backups in place to reach colleagues if emails are offline. Our Cloud Communication services can help here, click here to learn more.
At Chalvington, we've got decades of experience helping businesses prepare for the worst. We've developed a core set of tools, systems and processes that can be tailored to suit the individual needs of each business.
If you're looking for a partner to help protect your business, secure your data and take a weight off your mind, get in touch.
https://www.chalvingtongroup.com/contact/

Find out more about our IT support service.
We'd love to arrange a Covid-safe meeting to discuss your needs and how we can help. Call the team on 01323 440555 or drop us a message through our website.