5G Mobile – The Who, What, Where, When and Why?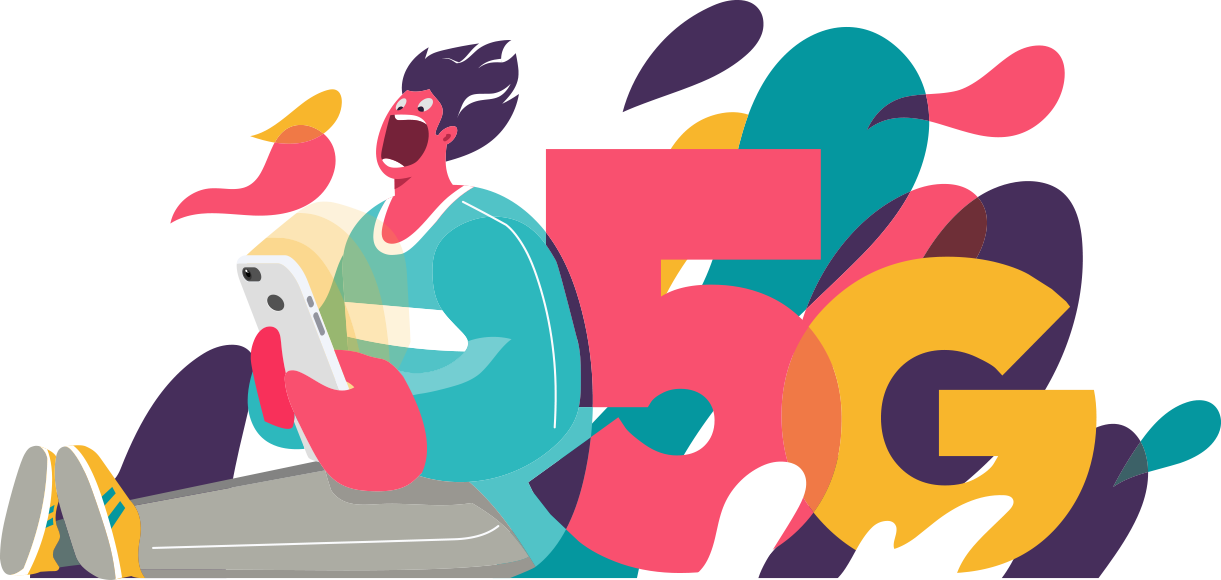 By now, you're no doubt aware that 5G has been launched by two of the "Big Four" providers, EE and Vodafone, with O2 and Three plus a number of Mobile Virtual Network Operators (MVNO) close on their tail, with many promising availability before the end of the year.
The technology is becoming more prominent as each week passes, with a number of new 5G ready devices already coming to market and additional UK locations. With a number of roaming destinations introducing or expanding their 5G infrastructure and making it available to UK customers.
But what does that mean to you? How do you actually get started with, and take advantage of, this new technology? In reality it comes down to three important factors, your Mobile Network Operator (MNO), your location and your device.
I'm going to cover each these factors separately, across three blog entries which will answer some of the more frequently asked questions relating to them.
By far the most relevant factor, and essentially the driving force behind your access to a 5G service is your chosen MNO. As we have already noted, 5G is currently only available on EE and Vodafone, however other players have shown their cards.

When will my network operator offer a 5G service?
EE – Available now in selected towns and cities
Vodafone – Available now in selected towns and cities
Virgin* – Launch schedule not announced
Tesco Mobile* – Launch schedule not announced
GiffGaff* – Launch schedule not announced
*It's worth noting that these networks are in fact Mobile Virtual Network Operators (MVNO's) meaning they "piggyback" on infrastructure from one or more of the "Big Four". As such their own 5G capabilities are restricted by their supplier network schedules, capability and availability.
How can I activate it?
The good news is that, with the launches we have seen so far, adding the service to an existing or new subscription has been made relatively simple. There is no need for a new sim card with upgraded technology and there are no complicated instructions, requiring end users to manually scrawl through confusing menus to input obscure APN settings. In fact, with some providers you might simply ring up, ask for it to be applied and it will be actioned just as quickly as removing a bar or adding an optional service such as voicemail.
What will it cost me?
The burning question on everyone's mind, but this is a little bit trickier to answer. In truth it will vary from provider to provider but there will be two drivers behind any 5G costs:
Individual Consumption
How you use your device will obviously contribute to how much you get charged. The good news however is that unless you change your habits and the way you use your device, meaning you are physically consuming more content than you do currently, the shift from 4G to 5G should not really impact your costs.
For example, if you currently have a tariff that includes 20GB of data, then a 4GB HD movie downloaded on your device will still consume 4GB of your allowance, essentially costing you nothing extra when downloading it via 5G. However, if you choose to download that same movie in 4K resolution, because with 5G you can potentially do this much quicker than on 4G, then the file itself will be much bigger, possibly around 100GB, so your inclusive data allowance will be immediately utilised and the additional data consumption could leave you with hundreds of pounds of out of bundle costs. To avoid this, you can monitor your data usage with a number of free to use apps available on Android and iOS.
Provider Offerings
Providers will competitively and strategically price their 5G propositions, some might offer 5G as a value added service, choosing simply to add it to your existing subscription for an additional minimal monthly fee. Others will build it into specific tariff offerings, restricting availability to new customers or those eligible to resign.
One thing is clear though: the market pricing for airtime is not being significantly driven upwards. Vodafone have announced their first unlimited 5G offering including unlimited minutes, SMS and data with an unrestricted 5G service for only £30 per month, in addition to other cheaper options that still offer unlimited data but with restricted speeds, ideal for business use. In light of this, we can expect other networks to follow suit or risk losing a huge share of the market.