4 Key Considerations for a BYOD Culture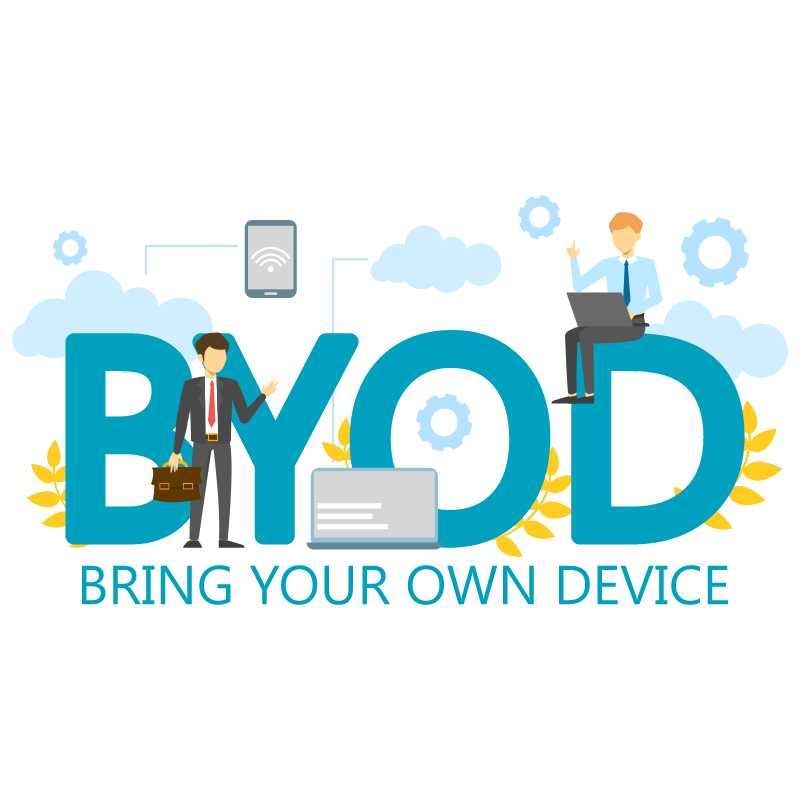 Workplaces changed almost beyond recognition in 2020. A new focus on flexibility, remote working and business agility have brought about a new wave of businesses introducing Bring Your Own Device (BYOD) policies.
Many firms have had no option but to allow staff to work from home with the equipment they already have. This has allowed staff to develop their own ways to organise their work and maximise productivity. With this in mind, would you gain any productivity by preventing your staff from bringing their devices into the office?
With access to the office far from guaranteed, it may make more sense to introduce BYOD policies on a permanent basis, making it easier for your staff to move from the office to their homes and back again. While many businesses may be well placed for this, BYOD can highlight shortcomings in wireless networks. This blog post will cover some of the key considerations for BYOD cultures.
Security
Threat detection and prevention are among the top priorities for companies enabling BYOD. Whilst your staff may work better from their own devices, they might not have the tools or technical know-how to protect their own devices, let alone your network and office PC's. Separating your wireless network from your central wired network is a sensible precaution as it allows you to limit the access from wireless devices to your business-critical tools without impacting workflows. Most routers allow you to configure separate VLANs for wireless devices, but none make it quite so easy as UniFi's advanced cloud-enabled access points.
Similarly, it's important to ensure that your staffs' devices are secured against the threat of cyber-attack. Advanced threat detection mitigates the impact of a compromised device, and services like Sophos' cloud protection suite expand the protective umbrella of your office network to your staff's homes.
Tools
Do the tools your staff use in the office work on the devices they want to use from home? This is where the cloud comes in. Cloud services like Microsoft 365, phone systems and Unified Communications platforms are compatible with mobiles, tablets, laptops and PCs, giving your staff the freedom to work the way they choose.
Does your network give your staff the seamless connectivity they need to make best use of their tools? A big advantage of BYOD and wireless working is the ability to operate from anywhere in your office. UniFi's powerful mesh network technology helps eliminate signal blackspots, guaranteeing the same lightning-fast speeds from anywhere in your building. Fancy a change of scenery? No problem! Take your laptop to the break room to regain your focus or present ideas easily in the conference room.
Network Management
Modern technology makes managing a large and diverse network simple but managing a sprawling office wireless network has traditionally been more challenging. With BYOD becoming more widespread, and with staff needing to connect wirelessly with their mobiles or laptops, simple network management is crucial to ensure a strong, secure and resilient wireless network.
The most advanced WiFi systems allow you to check the performance of your office network from any internet connection. Modern cloud-enabled WiFi systems like UniFi let you see what's connected and what's using bandwidth. Dynamically manage capacity, connections and traffic with UniFi's unique cloud management portal.
Expandability
It is crucial that your network can be easily expanded to provide the capacity to meet the increased demand that BYOD can generate. While you're not likely to see a huge increase in the numbers of devices on your network, BYOD will naturally encourage staff to rely more on wireless connectivity than they have in the past. This can highlight shortcomings in existing networks and create the need for expansion. Whether that means upgrading your router or deploying access points, in a traditional network setup this can be difficult, requiring complex configuration work and even costly network downtime.
UniFi's meshed networks don't rely on a central router, instead they share routing duties among all your access points. This makes expansion a doddle. If you find you need to extend your network coverage or provide support for more devices, simply plug a new access point in. There's no need to purchase an expensive new router; no need to take the network offline to install new equipment and so no interruption to your operation.
Most businesses have the fundamental tools required for a successful BYOD policy in place already. What they may be lacking is the comprehensive network and security know-how required to make BYOD successful. State-of-the-art UniFi systems make deploying a secure, scalable and fast wireless network simple.
It seems like a simple change, but with the rapid growth in the use of cloud services, there's no longer a driving need to provide dedicated office PCs and equipment for your staff. Subsidising laptops and equipment for your staff may be the best way to organically streamline your processes, reduce costs and improve your business's agility.
Once you've got the right technology and skills in place to support your staff's devices, BYOD can be a fantastic tool to help increase business productivity whilst minimising outlay.

Increase productivity whilst reducing your outlay.
If you're looking to kickstart a BYOD culture in your company, then hopefully this article has helped make the process and implications a little clearer.
Fill out the contact form on our contact page below or call us on 01323 440555 to arrange a consultation.